The key to a successful conference is keeping your audience engaged, excited, and entertained. Find out how our programs help guarantee your event will be talked about for months to come.
Let's make biz fun!
Few people understand the pressure of putting together a stellar conference. But you do! You know a good conference is about more than lining up speakers and making sure everyone has a name badge. It's about location, timing, meeting people's basic needs (like food and restrooms) and one intangible factor: energy.
Information-heavy sessions can leave attendees feeling drained. And when the energy goes so does attentiveness, effectiveness, and any chance of your event being considered a success.
That's why you've been invited to learn about our conference programs. You see, we know exactly how to boost your conference WOW factor, no matter how content-rich you make your agenda.
Ben Corey provides strategic, on-theme programs, globally, to boost attendee engagement and sends waves of energy through your conference.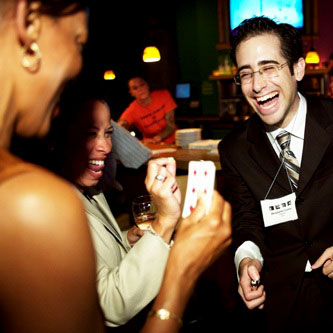 Often, we provide entertainment for the stage, but just as often, we're delivering a motivational and entertaining program in a board room. From keynotes to stealth product launches – where attendees don't even know they are being sold to – to boosting key sponsor visibility from the stage or livening up award ceremonies, there are many options we offer to help you bring your conference to life.
Watch our demo video and then call Benjamin Corey and he'll customize a program to meet your needs. Whether it be for an energizing conference kickoff, a general session program to get people re-engaged, a fun break for a luncheon, or to headline the main gala appearance, we've got you covered.
Our programs generate responsiveness and a level of focus that will carry over into your conference. Watch attendees become energized.
To find out how:


Watch Ben Corey's demo video,
request a proposal online,
and call 888-863-9838.